Pemberton Township High School
Class Of 1998
Welcome to the Pemberton Township High Class Of 1998 web site.
ANNOUNCEMENTS
Hey everyone! We are getting close to finalizing everything for our 20th Reunion! More details will be coming. Thanks to everyone who filled out the survey. It helped us get an idea of what everyone wanted in a reunion. We ended up going with the highest number of votes in regards to location, month and cost. Looking forward to seeing everyone in October. As always, SPREAD THE WORD!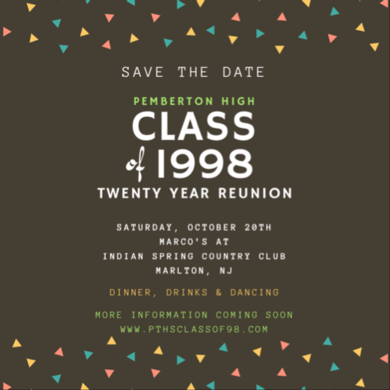 Hey everyone,
Time sure flies by! It's time for our 15 year reunion. I hope everyone is doing great and excited about meeting up with old classmates again. We decided to have it on September 14th of this year, so hopefully it won't interfere with any summer plans. We hope you agree that a nice relaxed evening at the Pic-A-Lilli on Rt 206 will be a great way to catch up. Food and drinks will be included in ticket prices...those prices are yet to be determined. Please check the 15 Year Reunion tab for updates. Please e-mail me if you have any questions at all! ....Oh, and spread the word!!!
Happy New Year PTHS Class of 98! I hope everyone has a safe and happy new year!
Class of 98,
Thanks to everyone that came out and made our first reunion a pretty successful one. It sure seemed like everyone that went had a good time, I know I did. I always admired our class and everyone's ability to be themselves and have a good time. Its nice to see that hasn't changed.
Hopefully those that didn't come will be able to make it next time. Remember, despite our best efforts (newspapers, tv, facebook, myspace, and mailed invitations), we still have about half the class that hasn't logged onto this website yet. So please, if you come across anyone from the class that doesn't know about it, tell them to log on!!! It will only make the reunions down the road more successful.
If you did attend the 10 year reunion, please e-mail me a few of your photos. I would love to try to make a gallery on here somehow. For now, I wish everyone a safe and happy holiday season and a great new year. And lastly...keep in touch! After all, that's what this website is for!
Welcome to the Pemberton Township Class of '98 website. We created this site with two ideas in mind. First, our ten year reunion is coming up this fall and we needed a way to get the word out and keep people updated. Also, we thought it would be a good way to keep in touch with friends from high school and keep people updated on where you are in your life. I hope you take advantage of the website and update your profile for everyone to check out. Take care and we'll see you soon...Check the '10 Year Reunion' tab on the left for updates on our upcoming reunion.
Hey everyone,
Check out Rich Dolka's profile to see the senior video. Thanks for uploading it guys.